TOOLS
Gearing Ratio Calculator
Check out the Beta version my Lego Technic Gearing Ratio Calculator Tool:
This tool allows you to upload your Lego Technic project .ldr file and analyse the gearing ratios between any two connected gears or axles. Currently supports most gears, axles, worm gears, some differentials, cv joints and universal joints. See the video tutorial on how to use it. It is a work in progress and I would love to hear your feedback on it. Click here to try it out.
Note: As of 25 Septemeber 2021 the tool supports CV joints, linear speed via the radius of the component and improves on the frame rate for higher numbers of parts in a model).
Technic Elbow Art
This is a tool to create "Lego Technic Elbow Art" - a series of intertwined elbow pieces as a single sequence. Choose your dimensions and search parameters and search for new dense solutions and set a record!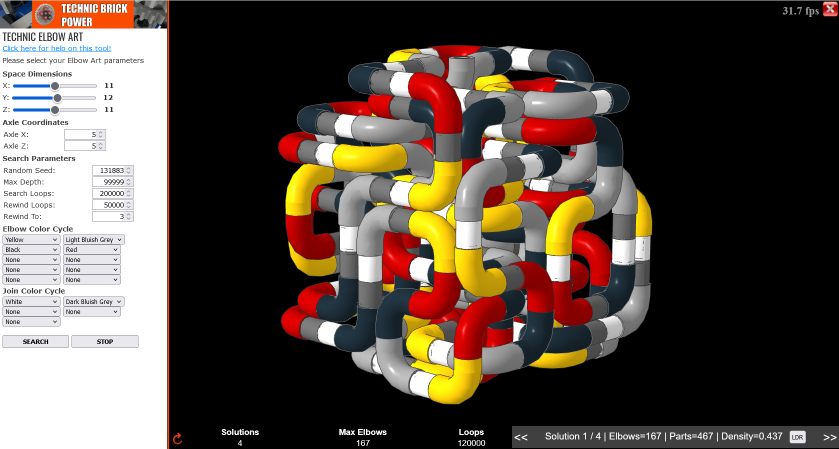 Download your Elbow Art as an .ldr file and build it yourself. Click here to try it out!
About Technic Brick Power

Hello I am Technic Brick Power and I am a massive Lego Technic Fan. It started when one day in 2012 I was given the Lego Techic 9396-1 "Helicopter" set for my birthday, and everything changed. I thought the set was amazing and I really got hooked on Technic - I soon started buying many more sets with the larger ones being some of my favourites, like the set 42055 - "Bucket Wheel Excavator", and set 42082-1 "Rough Terrain Crane".
In late 2019 I decided to take the plunge and start a Lego Technic YouTube channel. I specialize in Lego Technic MOC gearboxes, gearing systems and the more technical aspects of Lego Technic and share my ideas and findings on my YouTube channel. This has been very rewarding and has allowed me to learn and discover much more about Lego Technic than I realized there is to it.
The purpose of this website is to collate and share this information with all Lego Technic fans out there. I hope you are one of them.
Now of course I don't know everything and many of my designs have been improved from viewer feedback, so if you have questions or comments I'd love to hear from you. Please use to form below to get in contact.
Also I would really appreciate it if you subscribe to my YouTube channel especially if you enjoy my content or find my tools useful. There's no cost to subscribe - all you need to do is to click the YouTube button below.