TOOLS
Gearing Ratio Calculator
Check out the Beta version my Lego Technic Gearing Ratio Calculator Tool:
This tool allows you to upload your Lego Technic project .ldr file and analyse the gearing ratios between any two connected gears or axles. Currently supports most gears, axles, worm gears, some differentials, cv joints and universal joints. See the video tutorial on how to use it. It is a work in progress and I would love to hear your feedback on it. Click here to try it out.
Note: As of 25 Septemeber 2021 the tool supports CV joints, linear speed via the radius of the component and improves on the frame rate for higher numbers of parts in a model).
Technic Elbow Art
This is a tool to create "Lego Technic Elbow Art" - a series of intertwined elbow pieces as a single sequence. Choose your dimensions and search parameters and search for new dense solutions and set a record!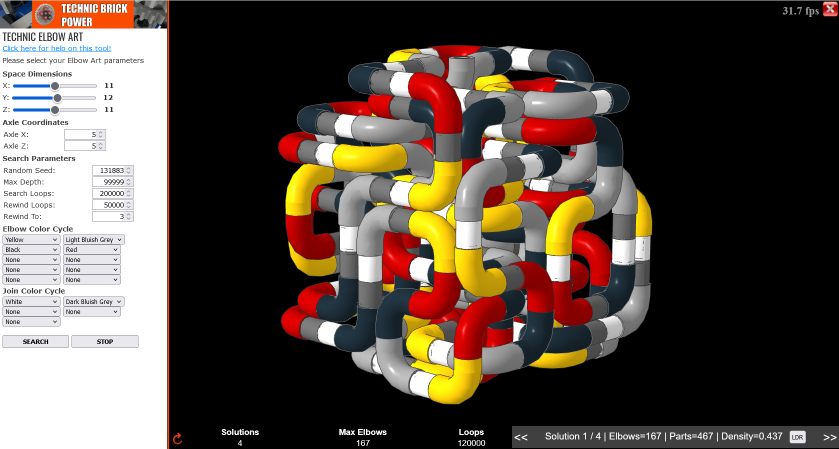 Download your Elbow Art as an .ldr file and build it yourself. Click here to try it out!
Lego Technic 2 Speed Auto Car Ramp Challenge - Part 2
10 Dec 2020
A lego technic 2 speed automatic gearbox is put to the test by incorporating it into a lego 2 speed automatic car. This lego 2 speed automatic gearbox implements a number of design principles aimed at improving the gearbox performance - namely of placing the torque detector on a separate path to the main gearing power path to reduce torque and power losses in the lego gearbox, and using gear disengagement to switch gears instead of gear engagement.
A simple derivation is presented of the physics involved in driving up a ramp in order to determine the amount of additional torque required at the motor output to be able to overcome the gravity and the corresponding potential energy.
The torque of the large lego power function motor is measured by measuring the output axle speed using a laser tachometer and relating that to the linear torque/speed relationship of the motor. These measurements are demonstrated for the car without any loading and with simple horizontal motion.
Finally the car is put to the test by attempting to drive up a 40 degree ramp.
More to explore