TOOLS
Gearing Ratio Calculator
Check out the Beta version my Lego Technic Gearing Ratio Calculator Tool:
This tool allows you to upload your Lego Technic project .ldr file and analyse the gearing ratios between any two connected gears or axles. Currently supports most gears, axles, worm gears, some differentials, cv joints and universal joints. See the video tutorial on how to use it. It is a work in progress and I would love to hear your feedback on it. Click here to try it out.
Note: As of 25 Septemeber 2021 the tool supports CV joints, linear speed via the radius of the component and improves on the frame rate for higher numbers of parts in a model).
Technic Elbow Art
This is a tool to create "Lego Technic Elbow Art" - a series of intertwined elbow pieces as a single sequence. Choose your dimensions and search parameters and search for new dense solutions and set a record!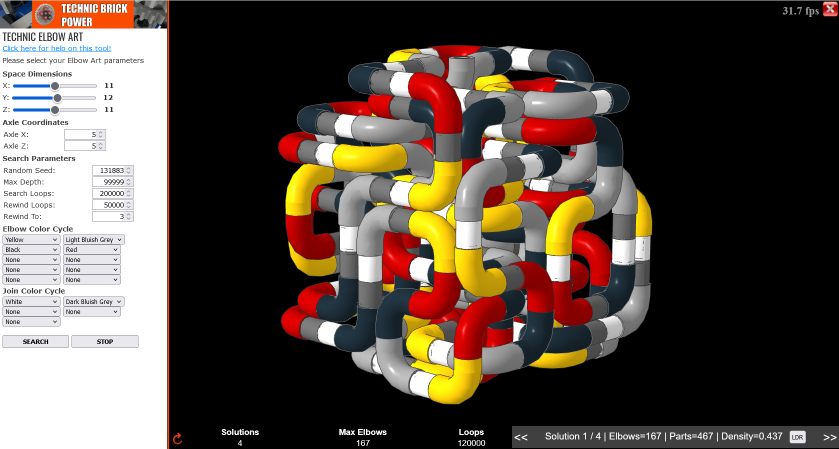 Download your Elbow Art as an .ldr file and build it yourself. Click here to try it out!
Lego Technic Two Degrees of Freedom 2 speed Automatic Gearbox
21 Feb 2021
This lego technic 2 speed automatic gearbox implements it's second gear by using a two degrees of freedom configuration and blocking and unblocking the lower gearing ratio path by using a switch and rotary catch. The rotary catch is driven by a torque detector and once enough load is detected at the output it is rotated 90 degrees to unblock the low gearing ratio path. Upon the path being unblocked it becomes the path of least resistance and the output gearing ratio is reduced to give a higher output torque.
Alternative lower gearing ratios can be implemented in this lego technic 2 speed automatic gearbox by changing out the lower gearing path gears.
This 2 speed automatic gearbox operates in a bi-directional manner - meaning the input motor can rotate either way and the automatic gearbox still functions.
More to explore